These next few comics are gonna hurt. I have them all storyboarded out in a notebook with thumbnail sketches not because that's what comic artists do, but because that's what storytellers do. I didn't want to approach this part of Troublefakers 1.0 thoughtlessly and I didn't want to have to make it up at the moment I put pencil to paper. To me, this was and is a big deal.
Troublefakers 1.0 did not live very long. The four of us - Ethan, Ed, Laurel, and Me - wrote and performed together for maybe 2 years. I was going through my photo archive and realized I didn't have a lot of pictures from all the gigs we played together. I have evidence of The Central, Caffe Bella, and the Workshop, but not much else.
Did we really only play a handful of shows? THIS IS WHY TAKING PICTURES IS IMPORTANT - you know what they say, "pics or it didn't happen." Back in 2007 social media sucked, but now there's no excuse! You can enjoy the show, take a picture halfway through the set, then put your smartphone back in your pocket. Post and tag between bands. Easy peasy! The band will love you for it, I promise.
But anyway... For two years we practiced and played. I wish I remembered as much of the shows as I do rehearsals and camaraderie. It might have made things easier.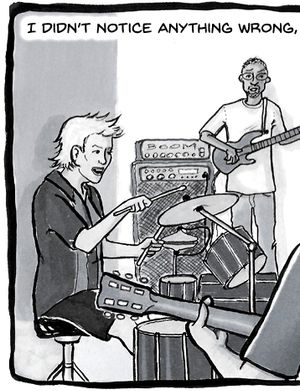 If you're reading this on the WCB Blog, please head over to the main page and sign up for emails! I send the whole strip to the mailing list and you don't want to miss out.
I decided that this week I'd try an actual comic book lettering font instead of hand-writing the narrative text. The process has so far been pencils, inks, lettering, PhotoShop, then email, and the PhotoShop step was getting to be lengthy as I cleaned up all the mess around words. I picked this font because I recognized the style from some of my favorite comics. I hope it's easier to read, but let me know what you think. I'm always happy to send you the JPG of the comic if it's too small in your email program.
Until next time!
Your friend,
Wynne C Blue
https://wynnecblue.com